Beverage industry 4.0 – driven by LinMot linear technology
Plant-based liquid food products, NOLO (no and low alcohol) beverages, 'free-from' and clean label smoothies, and molecular coffee made of upcycling materials. Just a quick glance at the latest products from the beverage industry is enough to identify a clear paradigm shift in global consumer behavior. Here in the middle of the fourth great industrial revolution, one stakeholder has come to light who not only demands more, but also facilitates more: the consumer 4.0.
---
Greater packaging strength in less space and a line capacity of up to 30,000 bottles per hour. The symbiosis of Syscona and the linear motors from LinMot from Switzerland resulted in unprecedented peak performance and spurred great interest from many end customers.
---
This new, digital generation is increasingly influenced by the concept of sustainable consumption, with a rising trend of prioritizing the economic capacity of both the individual's living space and the environment. Is it possible, though, to satisfy the new consumer 4.0 properly without a co-revolution in the beverage industry? Not remotely. This means that future thinkers are in greater demand than ever. Developments at Syscona Kontrollsysteme GmbH, in conjunction with linear motors from LinMot have received subsidies from the BUND of North Rhine-Westphalia to help pave the way for customized digital structural change in production and control processes in the beverage industry.
---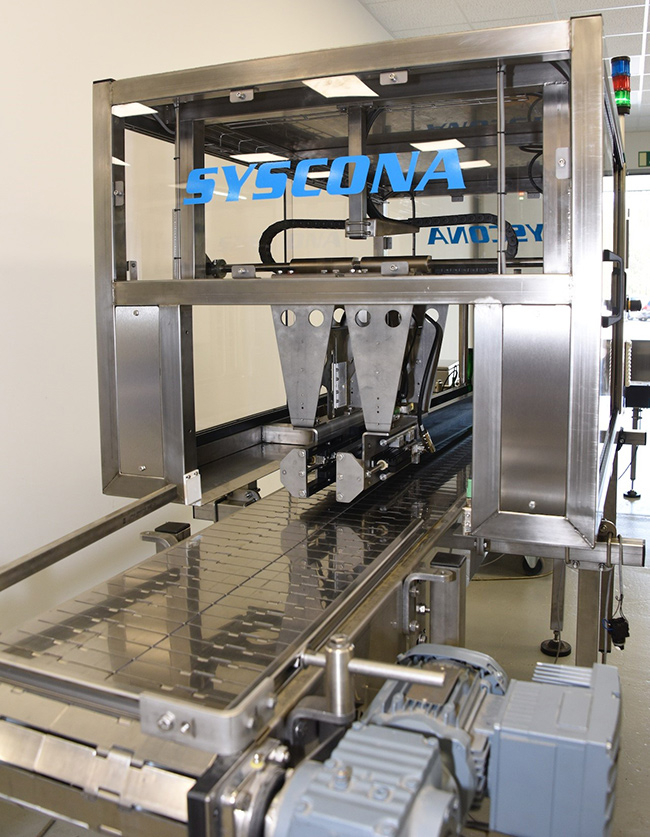 One of the biggest problems, solved: the programmable kinematics of LinMot drives allow the ProfiLane precision gate from Syscona to handle all packaging sizes more gently and safely than other machines. It is practically impossible for the bottles to tip over.
---
Structural change through experiments
Digitalization, individualization, decarbonization. These are considered the megatrends of industrial transformation that were the main topics of discussion at this year's HANNOVER MESSE trade show—with good reason. The dynamic economic changes in these megatrends are already seen as undisputed, and especially digitalization is interwoven with technological, corporate, and economic areas of production in multiple dimensions and many layers. A new understand of production, however, is predestined to need to prove itself along the entire, often rocky road from top management to the workbench—a grueling and tedious process. According to a study by Deloitte, the useful commercial effects of long-term investments in advanced technology are therefore still seen too rarely, and transformative adjustments are significantly neglected due to the initially slow development curve. "Reasons for this include: focus on the short term (37% of those surveyed), lack of collaboration with external partners (38%), and lack of internal coordination and strategies (43%)."
---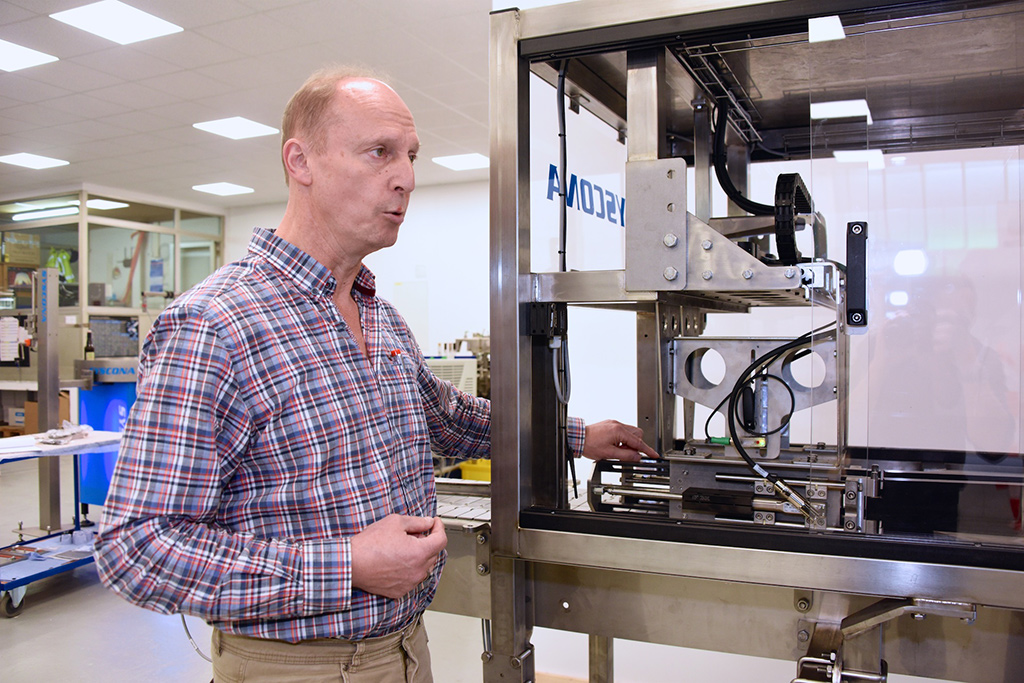 Full satisfaction despite ultra-high standards: "When I was looking for the best performance for our systems, I kept coming up with LinMot. The reproducibility and performance of these linear drives are unbeatable," says Mr. Betz, technical project manager at Syscona.
---
Nevertheless, there are some companies whose DNA is nearly immune to these regressive phenomena. LinMot and Syscona are clearly among the actors who wish to innovate beyond their own products, applying their long-established company philosophies and entrepreneurial operating structures with pervasive adventurousness. "At first, we just thought about replacing pneumatics," reports Mr. Stephan Betz, technical project manager at Syscona, about the original approach that has since been touted by many machine builders. "But our constant, ongoing development with LinMot motors made it clear to us that we could use this technology to implement innovative solutions. Linear direct drives have created countless new possibilities." This diversity of potential applications for LinMot drives has already been confirmed by numerous end customers and machine builders. Our air-core synchronous servomotors are highly efficient, robust, dynamic, and have the flexibility that will become a fundamental requirement in nearly all industry solutions due to the rapid development of Industry 4.0.
Sustainable kinematics
Well-known solutions, such as pneumatic cylinders, are still commonly used to produce translatory motions. The speed of adaptation of technical innovations is surprisingly slow in many industrial fields, even though a more reluctant attitude toward alternative drive solutions can quickly become a threat to the competitiveness and commercial efficiency of the company. "Years ago, we observed from our customers that certain new functions in the systems could no longer be implemented using compressed air technology. The customers would still bide their time," says Mr. Betz, explaining the problem situation within the beverage industry. But Syscona did not stand still: thanks to LinMot's innovative drive technology, a cross-sector problem with sorting systems for empty bottles has been solved. "Damaged bottles were constantly being found in cartons that had been rejected. At some point it became clear that the hard impact of the pneumatic pusher was responsible for the cracked or smashed bottles," adds Mr. Betz. This not only caused innumerable consumer complaints, but was also a huge waste of resources. The problem is now a thing of the past, as the ability to digitally parameterize linear motors from LinMot has made them true catalysts for the fourth industrial revolution and smart factories of the future. Linear direct drives from the P01 series are especially compact, quiet, extremely dynamic, and have high efficiency and excellent precision in all process variables—exactly what modern systems demand for the beverage industry 4.0. "With LinMot drives, we were able to ensure that the pusher approaches the beverage cartons slowly, and that greater pushing force is applied only after contact has been made with the carton," explains the Syscona technical project manager. The intelligent kinematics of linear motors thus protects the bottles and saves money and resources. LinMot products are not only sustainable, but also play a key role in industrial digitalization, providing opportunities in nearly every industry to get on board with megatrends and future disruptive technological changes in the market.
---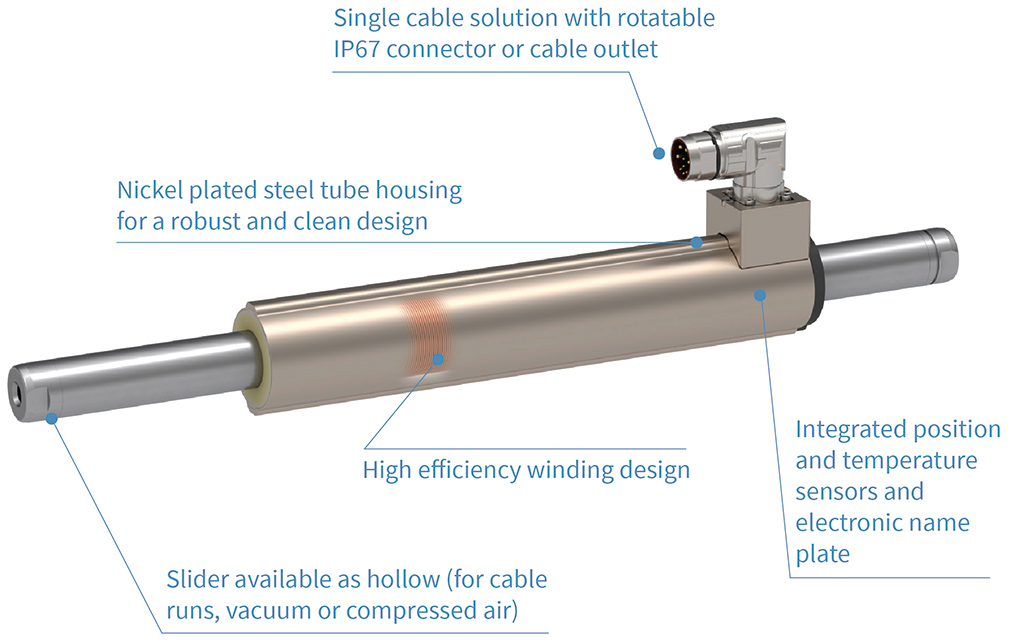 Versatile, more versatile, LinMot: packaging machinery, filling, feeding and sorting systems, or precision presses: with a universal, compact design and simple installation and configuration, linear motors from LinMot can be used in any industry.
---
Data, data and data
To properly satisfy today's consumer 4.0 with new products, more and more aspects are in focus, requiring not only individual mass production, higher productivity, and tougher conformity requirements, but also all-encompassing digital interoperability for all industrial production machinery, elements, and units. "Linear motors from LinMot have very fine adjustment resolution," reports Mr. Betz, emphasizing the importance of this characteristic for the beverage industry. "This subtlety has become an indispensable prerequisite, as more and more systems and controllers are equipped with cameras that have the resolution to detect the slightest differences in products. These need to be physically implemented, however, and this can only work with fine adjustment capabilities and digital networking." The new digital technologies far exceed traditional technical solutions, and control systems are no exception. For these processes, LinMot Drives not only offer extremely fast cycle times, high scanning rates, and parameterized safety functions, but also act as the interface between kinematics and the digitalization innovations of Industry 4.0. They ensure connectivity of all assets along the value chain, including tools, machines, materials, monitoring, and data. The shape and analysis of the captured measurement curves in the LinMot axis controllers can be used to monitor each individual production step, an assembly, or the entire product, with real-time controls and evaluation. These characteristics of LinMot drives will soon be considered indispensable in the modern beverage industry. "Previously, it was much easier to offer fill level monitoring, for example. Control devices needed to show whether the bottle was full or empty," says Mr. Betz, addressing one of the challenges of the digital age. "Today, the fill level monitor needs to 'tell' the filler: we have detected that the fill level has dropped by 3 percent in the last 30 seconds, and the filler can raise the fill level automatically. This data should also be observed and evaluated—so I am happy that we decided to go with LinMot solutions."
---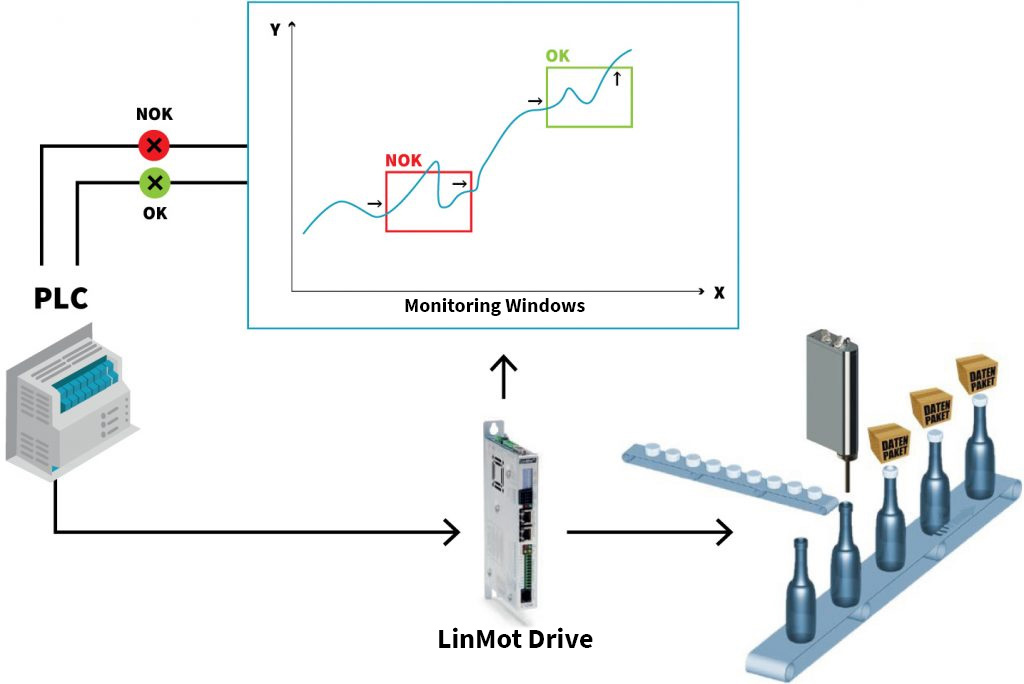 Digitally equipped for the industrial transformation: processes such as inserting, checking, inspecting, and assembling can be easily controlled, monitored, evaluated, and even adjusted "on the fly" with LinMot linear motors and their corresponding servo drives.
---
Leak testing, fill level monitoring, label checks, screwing, filling—the list of tasks in the beverage industry is nearly endless. But all of these production processes will have two fundamental requirements in common in the future: they need digital interaction models and data-networked kinematics. In order to set these boundary conditions in motion—in the truest sense of the word—there is secret formula that promises success for all machine builders and end customers who want their drive solutions to be energy and resource-efficient, digital, and competitive: linear motors from LinMot.