Medical & Pharmaceutical
The range of applications for linear drives in the medical and pharmaceutical sector is very broad.

For handling blood samples, counting and filling pills, or packing challenging medications, LinMot drive components provide a high level of dynamics and precision for implementing these tasks.
The hygienic design of the linear motors makes it possible to cleanly process these highly sensitive products in accordance with clean room regulations.
Customers benefit from experience with drive solutions that have already been implemented in the areas of:
Flexible filling stations
Metering and counting
Insertion
Closures
Pressing of closures
Carton packaging
Labeling
Pick and place systems
Product handling and palletizing
Blister & tray handling
Packing systems for blisters & trays
etc.
LinMot has developed special stainless steel modules for applications in the medical & pharmaceutical industry. Designed for a demanding environment, the compact LinMot SSC linear motors are made of stainless steel EN 1.4404/AISI 316. To prevent the build-up of dirt, the motors are designed without unnecessary edges, corners as well as holes and screw connections. They can be used in machines and systems for processing food or in the pharmaceutical industry. There, they can easily cope with extremely rough or corrosive environments and can be cleaned without hesitation using all standard industry cleaning agents.
An overview of all LinMot products is available on this page: To the product overview
---
Application reports from the medical and pharmaceutical industry
Linear motors as artificial lungs
Medical nose-and-mouth masks can help to reduce the spread of the COVID-19 virus. Additional simple measures significantly increase their protective efficacy. This has been confirmed in systematic, reproducible investigations by the OTH Regensburg with a lung simulator that uses linear motors from LinMot.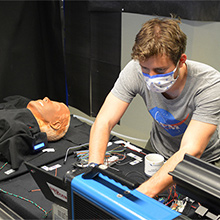 The fight against counterfeit medications
With over 6 billion products processed every year, and the cutting-edge linear drive technology from LinMot, the unique coding machines from Hicof are the tip of the spear in the fight against counterfeiting.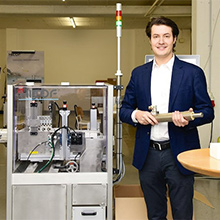 Pharmaceutical production during the COVID-19 pandemic
Multiformat filling and sealing system at Zellwag Pharmtech AG with precision linear rotary motors from LinMot.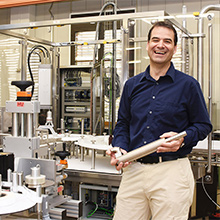 LinMot Systems in AFAQ Pharmaceutical Machines
As a leader in the MENA area for pharmaceutical machines and production lines, AFAQ puts a lot of effort in comparing and selecting state-of-art systems to be used in its Ophthalmic Drop Filling and Closing Machine (DropFill-SC) series.