LinMot Talk and LinMot Designer
The auxiliary tool for the correct dimensioning and monitoring of your linear motors.
---
Simple dimensioning and commissioning
The use of a linear drive system begins with the design of the linear motors. LinMot provides the designer with an easy-to-use tool for this purpose. The LinMot Designer calculates the parameters required for drive selection based on the required motion sequences and loads and places them in relation to the selected linear motor and servo drive.
The user can configure the LinMot servo drives with the aid of the LinMot Talk PC interface. In addition, the motors can be monitored during operation and the current motion sequences analyzed (monitoring).
Via the integrated Control Panel, the user has direct access to the control and status word as well as all commands that can also be called up from the higher-level controller.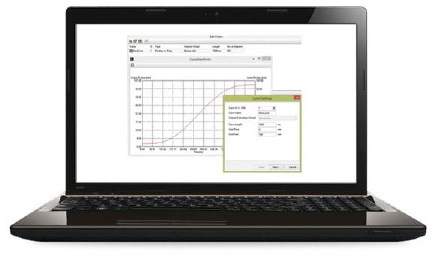 Motor design with LinMot Designer
Specification of all global data
Simulation of the desired movement
Determination of the kinematic data
Determination of the force requirement of the motor
Release of the selected motor
"Cost-efficiency" function for comparing pneumatic use versus linear motors
Design of rotary motors
Commissioning with LinMot Talk
Drive and motor configuration
Configuration of application parameters
Creation and storage of motion sequences
Controller optimization and status monitoring
Recording and measuring with oscilloscope
Reading out error history (error management)
---
Commissioning at the touch of a button
Proven technologies that quickly set the motor in motion.
PLC libraries and sample programs
LinMot drives have all the usual fieldbus interfaces for connection to a higher-level control system.
In order to realise a simple integration into the control system, the customer is provided with extensive function blocks as well as sample programs. These modules enable direct and fast integration of the LinMot drives into the control system.
In addition to standard travel commands, the function blocks can also be used to execute functions such as drive parameterization and configuration directly from the controller. The complete drive configuration of the relevant axis is thus stored on the controller.
In case of maintenance or replacement, this enables automatic recognition and parameterisation of the drive via the bus. This eliminates the manual and time-consuming configuration of the drives in the event of a fault.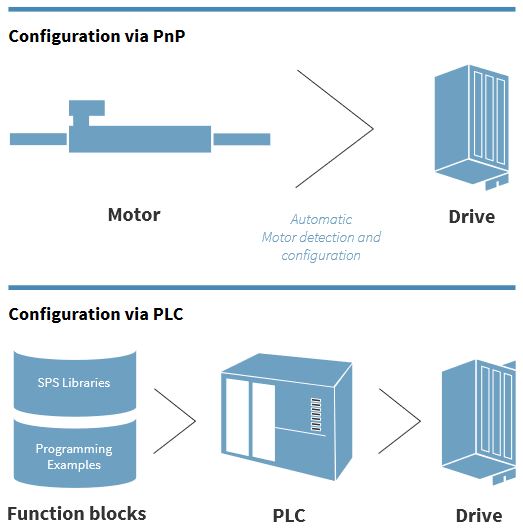 Fully automatic configuration of motor data
The Plug and Play (PnP) technology established in the computer sector is also used at LinMot for the commissioning of linear motors.
With Plug & Play motors, the parameters are stored directly on the stator. The servo drive reads in the values when it is switched on and sets the parameters accordingly. This automatic device recognition thus eliminates the need to select the required type parameters from an extensive library.
Immediately after installation and connection of the cables, the motor can be moved. Without having to start up the configuration software, the first commands can be sent directly by the PLC control.
Initial commissioning and replacement of a motor are thus extremely simple.