Linear Motors P01
LinMot P01 linear motors are permanently actuated ironless synchronous servo motors with integrated position measurement and over-load protection. Powerful rare-earth magnets in the slider and windings in the stator are used to directly generate the linear motion.
---
---
1. Details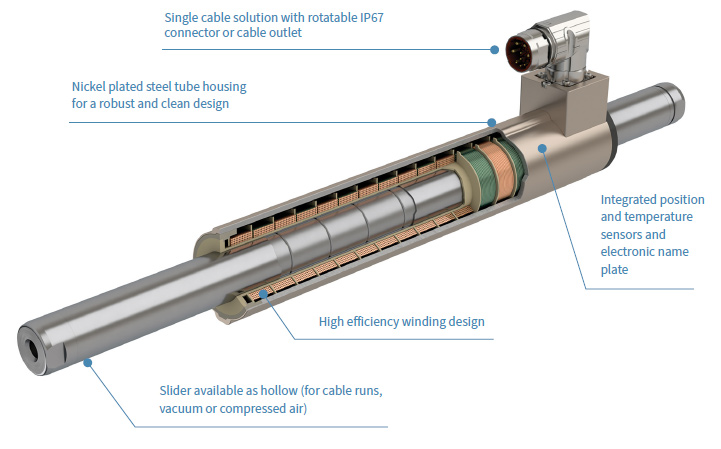 High power density
Extreme efficiency
Simple installation & configuration
Low noise & smooth operation
Long lifetime
CE/RoHS/UL certified
---
Standard Motors
Universal
Universal design for a wide range of applications
Highly dynamic motors
Available with cable outlet or with rotatable connector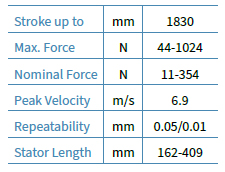 ---
HP Motors
High-Performance
Particularly strong magnetic circuit for an increased force and operating temperature
High power density motors
Increased duration of force and acceleration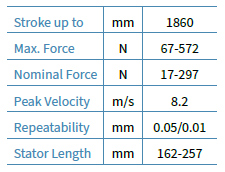 ---
Short Type Motors
Compact
Short and light design for applications with limited space
Integrated mounting flange
Pluggable motor cable with cover and positionable cable outlet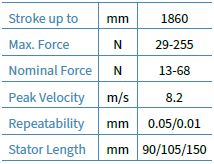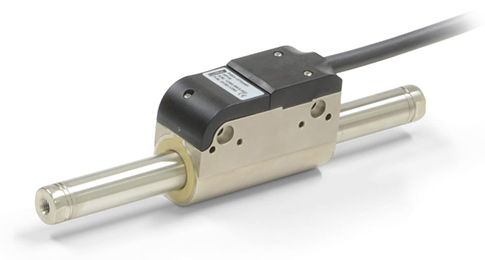 ---
2. Videos
LinMot High Density
In this video you can see twelve LinMot linear motors in use.
3. Application report
Ultimate drive technology
Ever since Chocolat Frey AG recently expanded their production of the highly popular Napolitains, this large Swiss chocolate maker has benefited from the advantages of advanced technology, producing a wide assortment of very small chocolate wafers with even greater quality, process reliability, and productivity.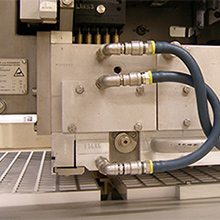 Pick&place with direct-drive technology
Flexible and fast as lightning: Direct electrical drives can be used to build pick&place modules that are highly efficient, precise, and dynamic. They are also more flexible, more compact, and require less effort to install and maintain than their pneumatic or cam-driven counterparts.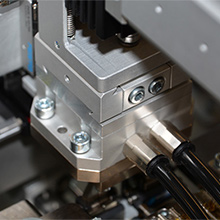 The filling and sealing machines of Zellwag AG
Dynamics in the filling and sealing machine industry. Since 2002 Zellwag AG has put their trust in linear motors when building their fully automated filling and sealing machines for pharmaceutical and cosmetic products.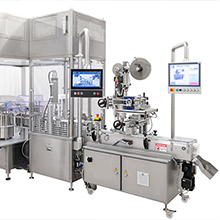 Full speed ahead with LinMot
Linear motors are a particularly good solution for pharmaceutical cleanroom applications. They experience very little abrasive wear, require little lubrication at widely spaced intervals, and are easy to clean. For these and other reasons, they are now the state of the art for the noted Swiss primary packaging producer Hoffmann Neopac AG and an indispensable part of modern pharmaceutical production systems.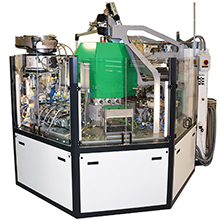 Beverage industry 4.0
Bulky construction, bottles falling over and low line performance – all that is a thing of the past. The state-subsidised developments of Syscona Kontrollsysteme GmbH, paired with linear motors from LinMot, together pave the way for a demand-oriented and digital structural change of production and control processes in the beverage industry.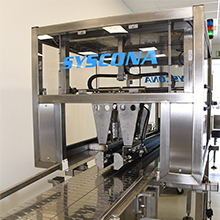 The fight against counterfeit medications
75 billion US dollars per year. According to the World Health Organisation (WHO), this is the estimated market value of counterfeit medicines worldwide. An untenable pharmaceutical policy status quo. With over 6 billion products processed per year and with LinMot's leading linear drive technology, Hicof's unique coding machines spearhead the initiative in anti-counterfeiting.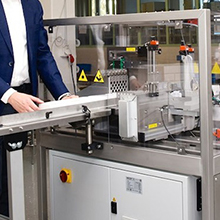 Innovation in robot grippers
By switching from pneumatic cylinders to linear motors, the machine and plant manufacturer Keller HCW has succeeded in developing an innovation in universally applicable robot grippers with high payloads that can even grip, separate and move sensitive products safely and gently.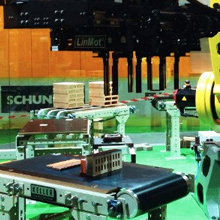 Linear motors as artificial lungs
Medical nose-and-mouth masks can help to reduce the spread of the COVID-19 virus. Additional simple measures significantly increase their protective efficacy. This has been confirmed in systematic, reproducible investigations by the OTH Regensburg with a lung simulator that uses linear motors from LinMot.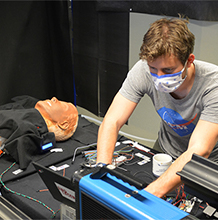 Pretty wrappings
Guaranteeing optimal packaging results every time, even when product characteristics vary and product types change frequently, is one of the greatest challenges facing a machine builder. Alpenland Maschinenbau GmbH, or ALPMA for short, has taken on and successfully overcome this challenge.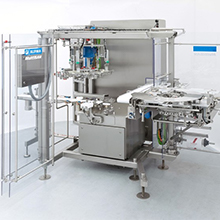 Do you have questions about the linear motors?
We will be happy to answer any questions you may have about the linear motors.
Please contact us using the following form or call us at
Tel: 262-743-2555