Food Products

Most food products that we use no longer come directly from the producer. Rather, they pass through a number of industrial processing and packaging steps before they show up on the supermarket shelf or land in our grocery carts. Automation technology is a fundamental building block for all food product and packaging machines. Frequently changing packages in smaller and smaller batches, or larger production quantities , are some of the common challenges for machine builders. An additional requirement is the complete monitoring and record-keeping of all processes. Every manufacturer and process of food products wants to have safe, monitored production of their goods. Consumer protection must be strictly adhered to for all products, in terms of current hygiene regulations.
LinMot drives provide machine builders with optimal components for putting the manufacturing and packaging processes in motion in the food products industry.
Various models of linear motors with highly hygienic stainless steel designs have been developed especially for this purpose.
They can perform standardized, highly dynamic, linear or linear-rotary motions in the housing of a single motor type.
In combination with freely programmable motion parameters via the drive, the motors provide a high level of flexibility for applications such as:
Beverage filling
Placing products in packages
Weight products
Metering products
Sorting using pushers or pull noses
Reject products
Cutting food products
Packaging
---
Application reports from the food industry
Healthy farmed fish with INOX motors
Skala Maskon has developed the VX-8 machine, which can automatically vaccinate up to 20,000 fish per hour. This revolution in fish farming is made possible by the use of a high-performance image processing system in conjunction with dynamic, compact stainless steel linear motors rated at IP69K from LinMot.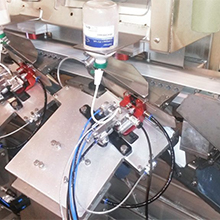 Ultimate drive technology
Ever since Chocolat Frey AG recently expanded their production of the highly popular Napolitains, this large Swiss chocolate maker has benefited from the advantages of advanced technology, producing a wide assortment of very small chocolate wafers with even greater quality, process reliability, and productivity.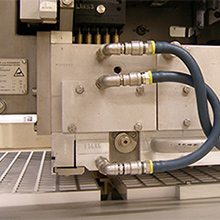 Routing valuable fish portions using linear motors
Valka, an Icelandic hightech company that designs and builds progressive systems for fish processors, is equipping its grading and sorting machinery with LinMot stainless steel motors for the speed and accuracy demanded in a difficult washdown environment.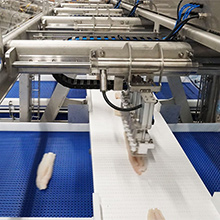 Vertical Slicer for Roast Meat Products
Food Technology Thielemann, which specializes in poultry slicers, has introduced the world's first solution for this task. Using lean, hygienic linear motors made of stainless steel from LinMot, the high-output vertical slicer has been kept simple in design for high energy efficiency and performance.