Pharmaceutical production during the COVID-19 pandemic
Multiformat filling and sealing system at Zellwag Pharmtech AG with precision linear rotary motors from LinMot.
Rarely do we encounter in our daily lives a nearly unprecedented fringe phenomenon of such enormous significance. With a single blow at the beginning of 2020, one word became the bane of our daily routines and brought about a sudden and substantial metamorphosis at all levels of society: a new meaning of pandemic was born. Both the immediate effects and the preventive health policy measures of the subsequent epidemic crisis situation led to unprecedented impediments to production, supply chain bottlenecks, and an unparalleled collapse in global economic growth. The domino effect still has many companies—especially those with weaker digital infrastructure—off balance and at risk of failure even today. Of course there are some exceptions. Thanks to timely and trendsetting digitalization efforts, a modern and modular machine platform, and years of cooperative effort with specialized partners such as LinMot, the semi and fully automated filling and sealing systems from Zellwag Pharmtech AG have not only preserved the stability of the brand, but also reinforced its future prominence in the market.
---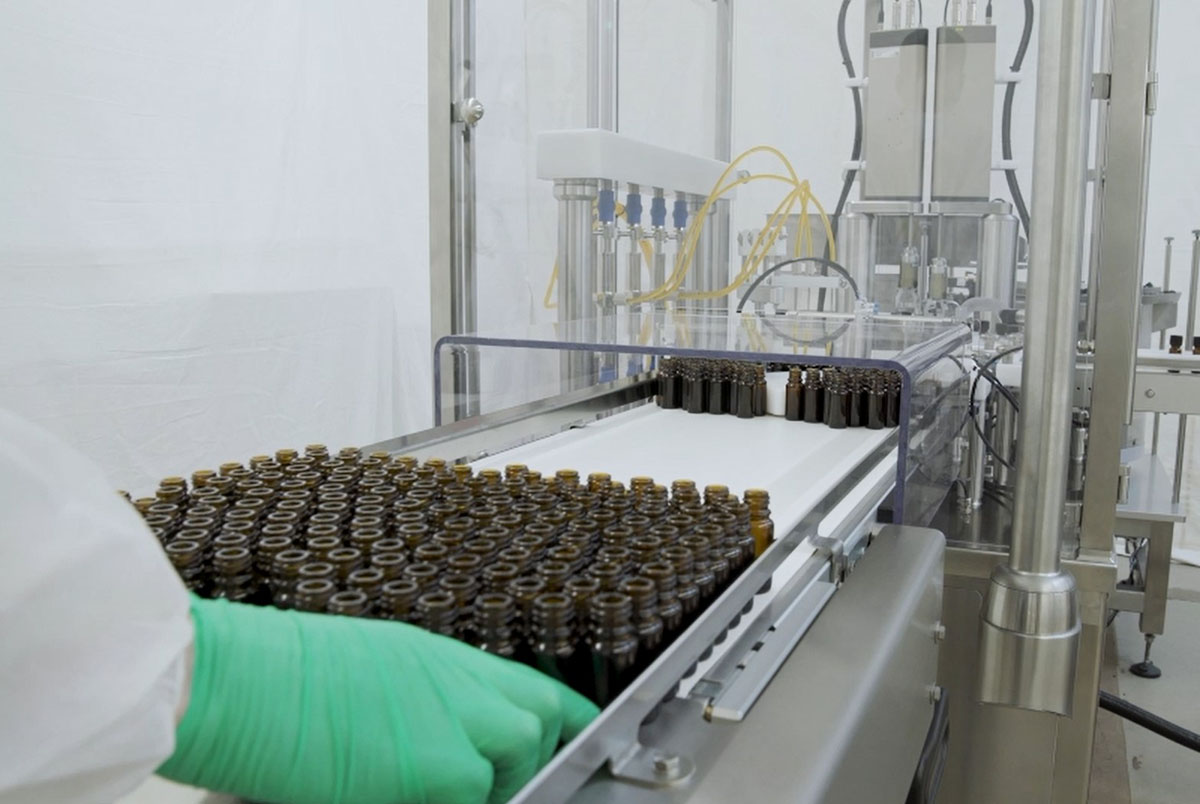 "Retaining rings, safety covers, aluminum caps, and droppers—with LinMot linear rotary motors (top right), we can cover all sorts of pharmaceutical products," says Pascal Witprächtiger, CEO of Zellwag Pharmtech AG.
---
The pandemic. It was first the cause of concern about our health; today it is raw fear for our economic survival. The recessionary economic developments, forgotten since 2008, are not limited to developing and emerging countries. Germany, Switzerland, and other highly globalized countries with advanced economies had to bring out their biggest guns to fight the volatile financial, capital, and market trends. The measures to save the economy are indeed strict, but they are having an effect: the COVID-19 pandemic is not yet a thing of the past, but the global financial order is recovering and "the Swiss index of weekly economic activity (WWA) has stabilized at a level significantly higher than prior to the crisis ". Leading the way with robust growth is the chemical and pharmaceutical industry, which "once again had strong growth (+4.9%) and exceeded pre-crisis levels by almost 20%", while "contributing 0.7 percentage points to GDP growth in 2021. The only greater impulse provided by this industry was in 2015-2016, " according to further details in the SECO report.
---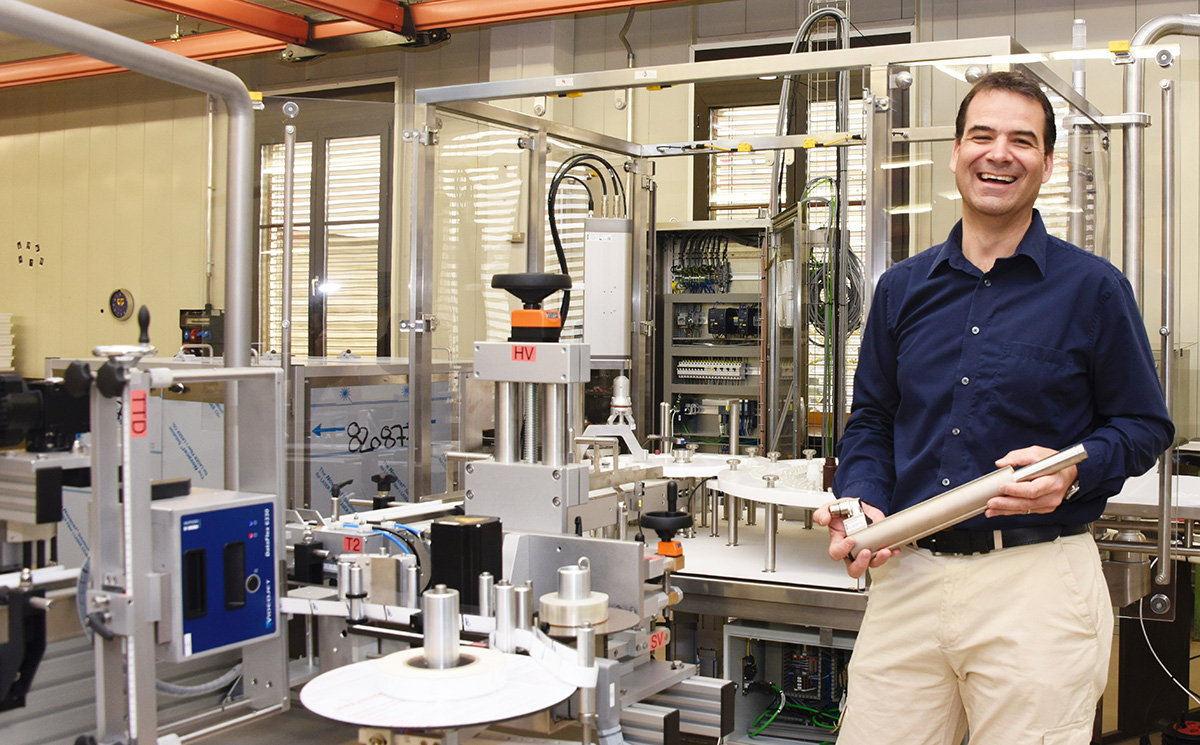 This joy is not unfounded: "In our many years of working together with LinMot, we have been very satisfied with their products, quality, and technical support," reports the head of Zellwag, showing one of the Z-110 machines with its essential component, the PR02 series linear rotary motor from LinMot (rear).
---
A highly complex business
One particularly successful pillar of this growth in the chemical and pharmaceutical industry in Switzerland is Zellwag Pharmtech AG, a fully-owned subsidiary of the Rychiger Group. Due to the unique nature of their semi and fully automated filling and sealing systems, which provide top-class process reliability and reproducibility along with tool-free format and product changeovers, the company will soon become the pharmaceutical division of parent company Rychiger.
"The use of mechanical expertise for engineering in the field of handling has been around since 1990," reflects Pascal Witprächtiger, CEO of Zellwag Pharmtech AG, pointing out the structural transformation over time. "The company was very broadly positioned, however, and the growing number of format parts for screwing processes became quite a challenge. Today, Zellwag is set up differently: we develop software ourselves and apply our core competencies and strategies as a machine builder with a clear focus on the pharmaceutical industry."
Although specifying the target market has significantly reduced the large number of different format parts, this is not a panacea for the other challenges facing a machine builder in the pharmaceutical industry. Numerous certifications and hygiene standards and regulations, along with data recording to comply with 21 CFR Part 11, and the mechanical challenges such +/- 0.5 mm tolerances on product fill levels and absolutely zero-defect control of diverse closure processes, present much more significant challenges. "Some customers are looking for systems that can perform up to 15 different screwing processes," says Mr. Witprächtiger, explaining the complexity of requirements. The results is an endless list of retaining rings and safety caps, aluminum caps and dropper inserts, sampling pipettes for COVID-19 test kits, all of which can only be processed with the most flexible screwing processes available. "This demand for flexibility is exactly the reason that we don't consider any other solution," says the head of the company, sharing the secret to the success of Zellwag machines: "When it comes to versatile, compact screwing solutions that are easy to integrated, our path clearly leads to LinMot."
Solution from a single source
Linear rotary motors from LinMot are made for the motion processes, typical for the industry, that Zellwag Pharmtech AG uses. "There were experiments with other technologies, which were not particularly successful," explains Mr. Witprächtiger, addressing the crucial benefits of LinMot solutions in comparison with other technical concepts. Particularly emphasis goes to the precision of the PR02 motors, indispensable in the pharmaceutical field, which would be essentially impossible with pneumatic systems, due to their limited controllability and low repeatability. The unique, modular design also supports accurate motions. The PR02 series of motors has a particularly fine, hard-anodized housing (also available in stainless steel) for vertical installation, in which several LinMot features that are particularly interesting to the chemical/pharmaceutical industry can be integrated:
• Force and torque sensor: they enable closed-loop control of force and torque for precisely repeatable and recordable screwing processes.
• Hollow shaft: this allows air lines to be routed through the entire module to operate pneumatic grippers or provide vacuum suction.
• MagSpring»: magnetic load compensation: the magnetic spring passively compensates for the moving mass of the tool and the motor.
• Electrical/pneumatic pusher: the pusher option provides the user with a second axial, telescopic motion. With this option, gripped elements can be stripped out, or mechanical grippers can be actuated.
---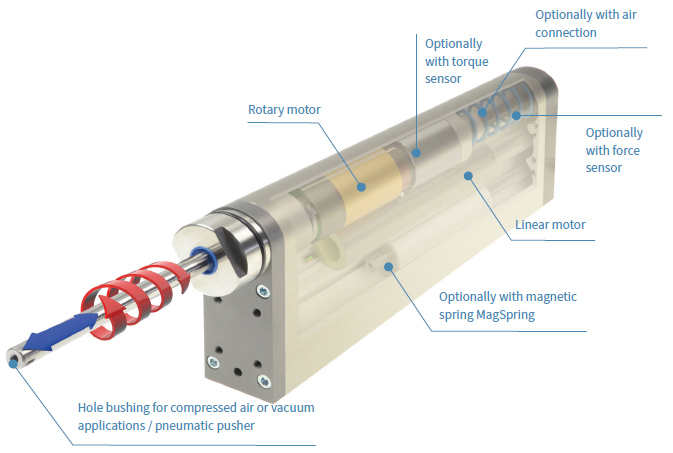 All-inclusive solution for networked production: information on the press force, torque, closing angle, or linear position is available for every closure operation using real-time motor data from the PR02 – Ready for Industry 4.0.
---
"Construction of any other type of mechanism that could handle these screwing processes would be very difficult," adds the head of Zellwag, confirming the universal abilities of LinMot modules. Without them, zero-defect production and preventive maintenance conditions would be inconceivable.
LinMot expands the technical horizon
With their advanced modularity and scalability, the extremely compact rotary table machines of the series Z-110 from Zellwag are among the most innovative and modern filling systems in the world. They are designed for sampling and reagent pipettes for immunoassays and molecular diagnostic reagents, among other uses, which are increasingly in demand, in part due to the pandemic situation. Besides the numerous cap and container formats, the compact monoblock devices can insert a wide range of internal components, such as metering or dropper inserts and applicator brushes, as well as spray applicators, rotary closures, and pilfer-proof seals. "Some of the parts are very small and lightweight, but require very precise torques," says Mr. Witprächtiger, emphasizing a very important part of the process that is of particular significance in the era of Industry 4.0 and the data acquisition that it requires. The optional features of LinMot modules mentioned above also satisfy all of the requirements for force control and measurement data. Besides the target values provided by the servocontroller, LinMot force and torque sensors provide the ability to monitor and evaluate existing process parameters in real time, with a precision of 1% of nominal values or better. The PR02 modules have analog signal interfaces for the motor and, as is used at Zellwag Pharmtech AG, LinMot Servo Drives with fieldbus connections are also available. Such extraordinarily precise documentation of process data is not, however, just beneficial for brief observations or diagnostics of potential deviations in parameters such as position, stroke, torque, angle of rotation, or pushing force. By gathering production information over time, design problems that cause preventable wear can be discovered, along with potential wear on mechanical parts, so that maintenance intervals can be precisely planned. This means that LinMot PR02 modules meet all of the prerequisites for the digitalization goals mentioned above, enabling both economic recovery despite the recessionary situation and the preventive maintenance that end users are demanding more and more often. In another essential step in the development phase of closure systems and screwing processes, namely in reverse engineering, LinMot modules also play an immense role, well beyond the limits of Industry 4.0, paving the way for future-oriented human-machine interactions over the long term. "At Zellwag, we first put our hands on the customer's product in order to understand what our systems need to do. The amazing number of sensors in the human hand help us understand significantly more accurately which motions the software needs to execute," says Mr. Witprächtiger about the internal reverse engineering process and striking performance of PR02 modules in terms of developing closure operations. "These high-precision motions can be parameterized perfectly using LinMot solutions."
---
Great performance, small footprint: Numerous different scenarios that will soon be expanded further due to the versatility of sustainable Zellwag machines: "The expansions we are planning will also include LinMot solutions," says Mr. Witprächtiger about the future of our cooperative efforts.
---
Zellwag Pharmtech AG and LinMot share a unique value proposition and the fundamental approaches of future-oriented industrial production. The cooperation between the two companies has never resulted in uninspired assembly conveyor machines. Rather, the cooperative efforts of Zellwag and LinMot have made the principle ideas of Industry 4.0 a reality, in that they design machines that are highly individualized rather than mass-produced, but also are capable of building the mass-customized products that the chemical-pharmaceutical industry increasingly demands. A future-oriented perspective for industry — made in Switzerland.