Transition in Packaging – The Turnaround with LinMot
Everyone is talking about the need for a fair and ecological recycling economy. In recent years, sustainability strategies have set a common goal of defining new standard criteria to meet this need, intended to bring about a climate-friendly turnaround in the packaging industry. But there are still a few pieces missing from the puzzle of holistic, resource-friendly operations. To fill in the gaps in this ecological industrial design model, the partnership between KRÖNING Automation and LinMot is based on a future-oriented idea: sustainability efforts must begin with the engineering of machinery for sustainable production. This is why the machine builders from Saxony trust only the finest in terms of power, adaptability, and sustainability, and use the complete drive solution from LinMot DM01 in their new KKA carton erector system.
---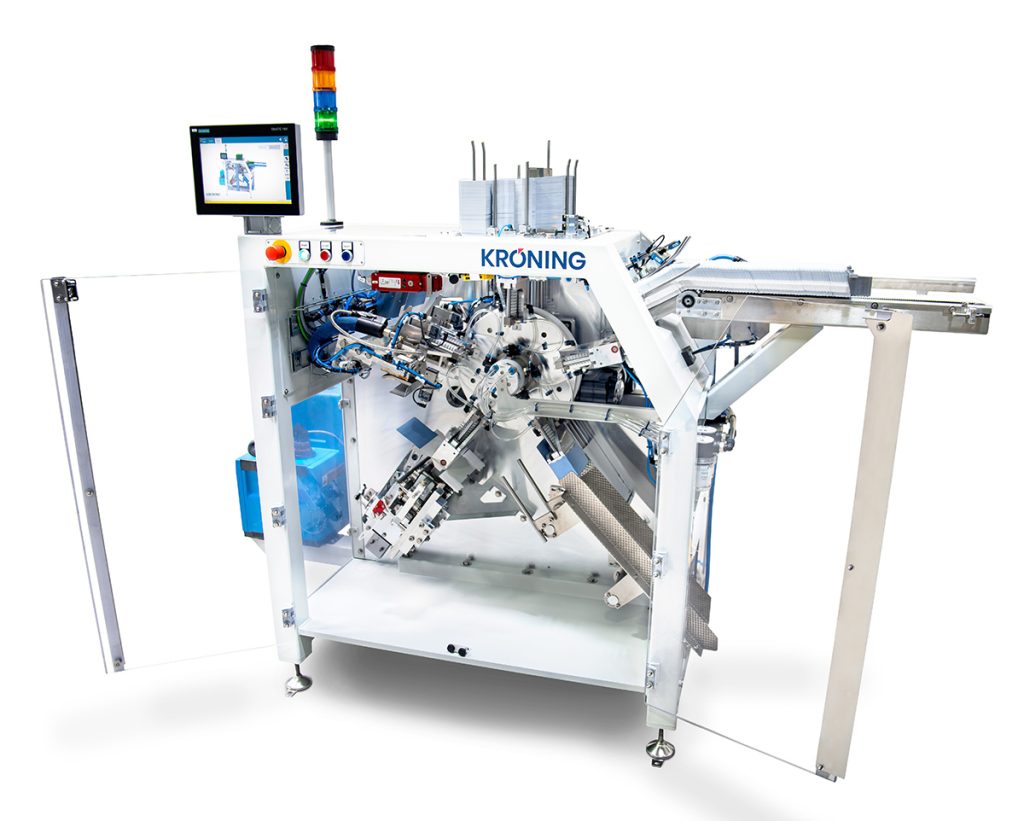 High-performance, compact, and eminently versatile: The KKA carton erector from KRÖNING Automation is an exceptionally flexible system. With two high-efficiency LinMot DM01 guides, its high speeds and space-saving, certified hygienic design work in any field of application.
---
Rethinking ecological industrial design
The appearance and sustainability of a product are often factors in the critical impulse to make a purchase. Consumers are increasingly moving away from the "take, make, throw away" mindset and turning to products that are sustainably under the new consumer protection directives 2005/29/EC and 2011/83/EU. Their preference is for producers who have ecologically, economically, and socially sustainable production environments. This rise in the significance of environmentally friendly product design is also important to many decision-makers: "For the majority of company representatives, packaging is an important area of investment (51%). The question of whether the business would benefit from an investment in better packaging was answered positively by nearly three-quarters of those surveyed. In response to the question of whether investments in packaging would help efforts in the area of sustainability, positive responses came from 80% of participants," reports a current survey . "Stefano Rossi, CEO of DS Smith Packaging, commented: Consumers want less packaging. As raw materials are more expensive than ever and the environmental benefits are substantial, customized packaging (…) is more important than ever." The advance of individualized product variety and the upheaval in industrial policies needs to extend to machine technology in the packaging industry. This could certainly be the credo of custom machine builder KRÖNING, whose automated systems combine the latest scientific insights of the Fraunhofer Institute and the Technical University of Dresden with sustainable and powerful linear drive solutions from LinMot.
---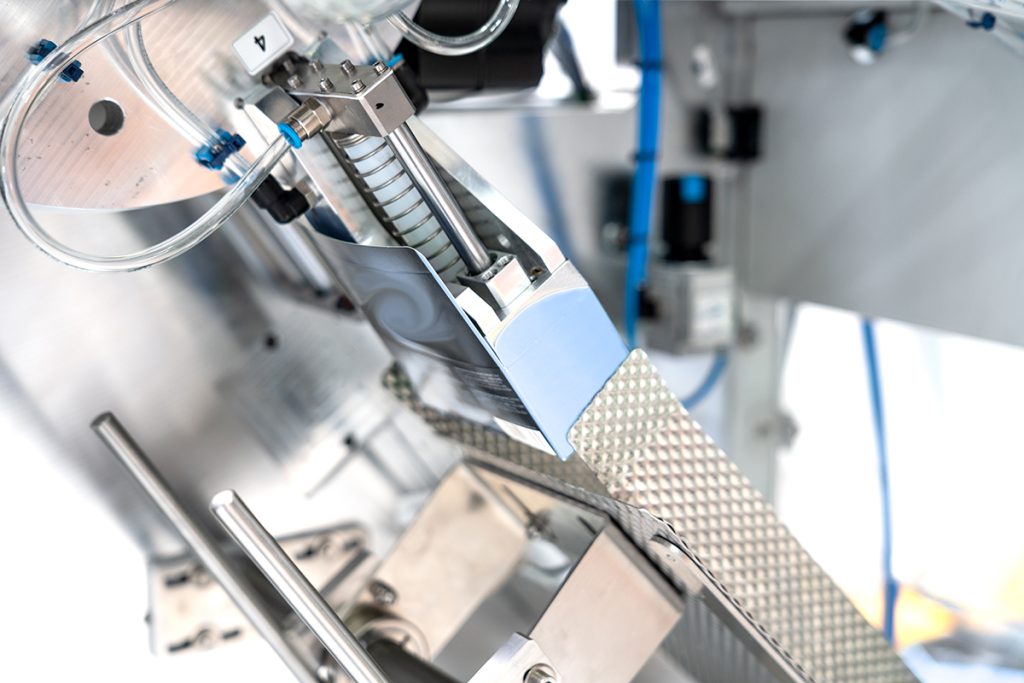 Reliable tool for a perfect landing. The parameterized DM01 module from LinMot (rear) pushes with millimeter precision to position the boxes precisely when they arrive on the conveyor belt. "This would be hard to imagine with pneumatics," says Mr. Wölle, mechanical design manager.
---
Design freedom with LinMot solutions
"When we started working together with LinMot, we found the […] short motors to be especially appealing," recalls Christian Wölle, design manager at KRÖNING. He praised the practical flanged construction of these short drives, which is exceptionally suitable for their specialized machinery. But the benefits extend to more than just their specialty packaging lines, as is evident from the unusually diverse industries of LinMot customers. Systems for handling, filling, inspection, feeding, assembly, stacking, sorting, and diverting can take advantage of the open position of the outgoing cable on the P01 series, as well as the compact and robust designs of the entire LinMot product range. Every industrial field can use them for optimal designs of sustainable machinery concepts with a small footprint and less dead space.
The space-saving, dynamic properties of the iron-free synchronous servomotors and their guide units were critical for a newly developed product from the specialized machine builder in Saxony. The "KKA" carton erector by KRÖNING replaces an obsolete unit that used various cam discs and mechanical linkages with the compact design of a central drum cam turntable. The KKA, with a throughput rate of up to 95 cartons per minute, compact dimensions (1.7 x 1.1 x 1.9 m), and a relatively low weight of 1600 kg for the base model, can match the speed of a large system with the footprint of a mobile solution. The modular principle of the newly developed LinMot linear modules played a critical role: "At the beginning of 2019, we were working with the motors only, and were still building the guides ourselves. We were very glad to see the new DM01 line, which gave us a lot of freedom in terms of modularity when the carton erector was first created," says Mr. Wölle, confirming the great technical design adaptability of LinMot linear guides, which are used in two particularly technically challenging steps in the system.
---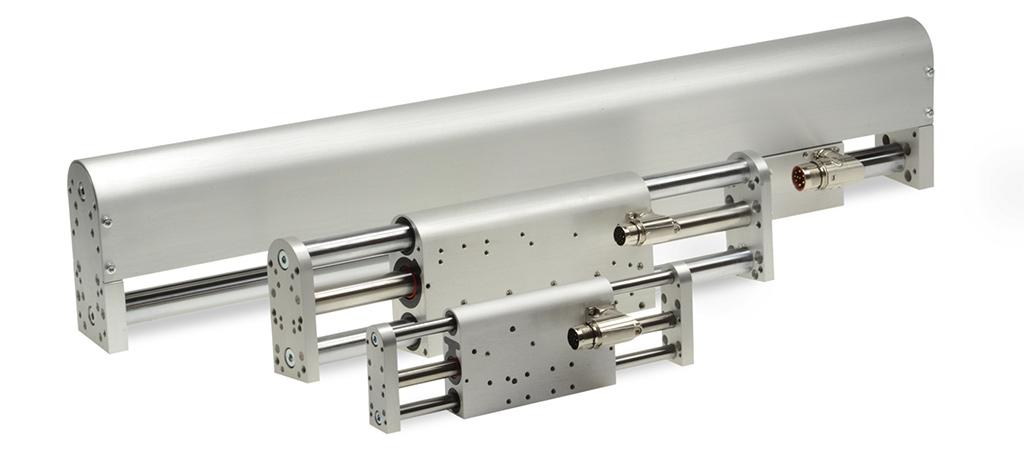 Specific dynamics for specific tasks: with forces of up to 572 N, adjustable over the entire range, strokes of up to 575 mm, and accelerations of up to 50 m/s2 at a maximum speed of 5 m/s, the dynamics and flexibility leave nothing to be desired.
---
DM01 Linear Module – total package eliminates complexity
In the first step performed by the KKA, the decorative tab (the insert that is inside the carton) is rotationally placed on the head by a servomotor. This head has various suction points that are moved to the carton pre-cut in the next step by a clean-room certified DM01 module, which suctions the pre-cut and brings it together with the decorative tab. "The machine motions and the dynamics they require could also be realized by pneumatic cylinders, but only with a large number of different attachments," explains Mr. Wölle, underscoring one of the most significant benefits of LinMot linear guides. The FDA-conforming, highly dynamic DM01 modules are pre-assembled units that are ready to install, with all of the design advantages of a modern drive package. Of particular note among these design advantages is the compact design of the LinMot guide units, which greatly simplifies and speeds up their integration in production machinery of all kinds, in any industry. In addition, both the load and the module can be installed easily, but still precisely, using the numerous centering holes on the front plate and the guide block. Hardened, chrome-plated guide shafts and low-maintenance, easy-to-clean guide blocks and covers made of aluminum provide strong support against lateral forces and flexural rigidity.
In the next step, glue is applied to the tabs. The following step uses the folding box, which is moved by a slider crank system, to fold the pre-cut around the head. In the next and final process step, the linkage moves toward the discharge chute and the carton is pushed off of the head by the second LinMot DM01 module. This step sounds simple, but it can be realized only with tools of exceptional flexibility. The particular challenge of specialty machine building is that every system is its own engineering experiment, and its success depends largely on the performance range of the functional building blocks that are used. "As a specialty machine builder, our requirements for third-party systems are very specific, and the implementation of a classified push-off procedure is no exception. Thanks to LinMot programmable electric actuators, however, we have great freedom in terms of the end position, speed, and acceleration, which can be varied along the entire stroke length," reports the KRÖNING design manager. In order to be able to meet these kinds of specific, increasing requirements, LinMot provides several series of linear systems that are ready to install and capable of innumerable motion sequences for whatever the customer application needs. With numerous strength classes, sizes, and stroke length, as well as optional accessories developed for specific industries, such as a completely washable motor interior for clean-in-place and sterilization-in-place processes, 1.4404 (AISI 316L) stainless steel models, fully encapsulated stator, and stroke lengths of up to 2 meters, LinMot linear guides are unbeatable in any production environment.
---
The game-changer of packaging: equipped with systems from global leading brands and with LinMot DM01 linear modules, which are available in over 60 variants, the carton erector from KRÖNING is a dynamic, hygienic, and sustainable hub of future-oriented and progressive technologies.
---
Force sensor modules
"We were impressed by the LinMot applications that we saw at other machine builders and the exhibition units at trade shows, and we think that this company has nowhere near reached its limits," says Mr. Wölle, underscoring his confidence and satisfaction while indicating the new developments at LinMot. One of these is the force sensor module for the linear guide series DM01-37 and DM01-48, which can be installed as a front flange directly on these modules. Thanks to the design concept of the LinMot DM01-37-FSxx and DM01-48-FSxx force sensors, a number of critical advantages over conventional force transducers are available to machine builders:
– Not sensitive to lateral forces: the design of the force sensor module provides effective compensation for lateral loads and suboptimal force application.
– High measurement accuracy: even if the force is applied axially off center, special bearings enable the calibrated force sensor to provide the correct measurement result.
– Zero point calibration: devices with external weight loads, such as grippers or punches, can be installed without affecting the measurement results.
– Position and force control: together with the C1250 drive, which is also calibrated, it is possible to realize a process either with force control or with process monitoring based on the forces that arise.
"A LinMot is always a nice package," says Mr. Wölle, summarizing his thoughts about the solutions available from LinMot. The young design manager from KRÖNING concludes with a look to the future, which looks bright with the promise of further cooperation between the two companies. "LinMot has become one of our standard suppliers. This is attested to by our new machine, in the conception phase right now, which will be equipped with over 30 LinMot actuators."